What-We-Do Wednesday: Personalized Gifts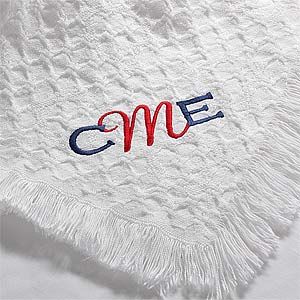 Everyone likes their name on things. From monogramed blankets to Christmas stockings, everyone loves to have something that is their own.
Top Dog Screen Printing and Embroidery specializes in personalizing your products.

For the bride to be a fantastic bridal shower gift idea is kitchen towels or matching plush bath robes embroidered with the new couple's monogram.
Top Dog Screen Printing and Embroidery can make a monogram to customize your gift just for them!

Another great gift idea is a monogrammed baby blanket for a new born. They will cherish their keepsake baby blanket with their embroidered name and birth date for years to come.
Choose from baby blankets that Top Dog offers, or bring in your own!
Corporate gifts are the perfect way to show your employees your appreciation. Top Dog offers many options that fit various types of industries and tastes.
Embroider your company logo and the employee's name on a Nike Golf polo to show them appreciation for their hard work and service.
No matter what the occasion, keep in mind that everyone appreciates their gifts more if they are personalized.
Let Top Dog Screen Printing and Embroidery help you give the perfect gift; contact us today.
Posted by Nicole Swanton about 1 month, 3 weeks, 3 days, 13 hours, 8 minutes ago...
What-We-Do Wednesday: Sports Team Shirts
Top Dog Screen Printing, Embroidery, and Design offers a wide variety of sports apparel. One of our favorite categories of teams are the ones "just for fun."
The recreational leagues and Top Dog share a similar interest: We both like to have fun. If you don't know what design you would like your fun team to have, just bring in your ideas.
Our graphic artist can design a unique team logo and also set up sponsorship logos for your shirts.
Trending this season in recreational sports teams are neon colors. The brighter the shirts the better when it comes to standing out! Screen printing is an inexpensive option to decorate your team shirts. Personalize your softball, baseball, volleyball, or bowling league teams with a fun design on the front and nicknames on the back.
There's no reason not to have some fun with your shirts!
Contact us to discuss creative ways to stand out this sports season!
Posted by Nicole Swanton about 2 months, 2 weeks, 1 day, 2 hours, 1 minute ago...
What-We-Do Wednesday: Promotional Products
Promotional products are a major part of Top Dog's business.
We provide many ways to market your business inexpensively and promotional products are a great way to accomplish that.
Promotional products are everywhere. You often find them in your kitchen, purse, vehicle, and office.
Every day you are exposed to different company logos, new trinkets, and giveaways that catch your eye. Everyone has been given a promotional product in their lifetime.
We all know the good feeling you get when you receive something for free because someone wants you to remember them.
It is always beneficial to behind a lasting impression on your customers, potential clients, and employees.
Top Dog Screen Printing and Embroidery offers many options for promotional products under $1.00. Establishing a promotional product program does not have to be expensive.
If you purchase office supplies why not purchase them with your logo on them? For example, pens from the office end up in random places.
But that is not a bad thing if it has your logo on it. If you take a company logo'd pen to a meeting outside the office, leave it at the meeting. Someone from that office will pick it up to use it, and look at your logo.
They will then most likely pass it on wherever they leave it. This is an easy way to market your business. Top Dog offers many logo'd pens for as low as 15 cents each.
No matter what promotional products you decide to leave behind with your clients, contact Top Dog to discuss the many options we offer.
We can work with any budget to get you started marketing your business inexpensively and effectively.
Posted by Nicole Swanton about 2 months, 2 weeks, 1 day, 8 hours, 34 minutes ago...
What-We-Do Wednesday: Vehicle Decals
I bet you don't know Top Dog Apparel makes vehicle decals!
Whether you are in need of USDOT numbers for your fleet trucks or large company logos on your vehicles, Top Dog can custom make your decals to include any information you need.
Bring in your logo or design and we will produce durable vinyl decals to make your vehicle stand out!
Top Dog designs, produces, and installs your vehicle decals in-house! From start to finish you have total control over your decal project.
Contact us about your decal ideas today!
Posted by Nicole Swanton about 3 months, 1 week, 5 days, 16 hours, 43 minutes ago...
Fox Valley Humane's Featured Business Partner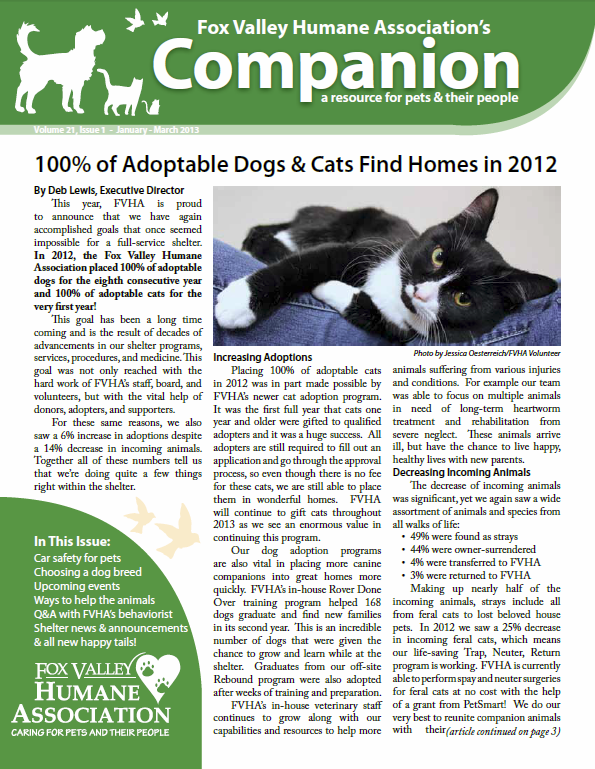 Top Dog Screen Printing and Embroidery is proud to be the featured business partner in the latest edition of Fox Valley Humane Association's Companion Newsletter!
Fox Valley Humane is near and dear to our hearts here at Top Dog. It is always a pleasure working with the friendly staff at the Humane Association.
We happily sponsor Bark in the Park and enjoy working with their creative ideas to not only have fun with the events, but also raise money for the animals in need.

Thank you to Fox Valley Humane for featuring Top Dog Apparel in their newsletter!
Posted by Nicole Swanton about 3 months, 2 weeks, 3 days, 23 hours, 42 minutes ago...
What-We-Do Wednesday: Banners
Since the product list at Top Dog Screen Printing and Embroidery seems to be endless, I thought once a week I would introduce a product or service that you might not know Top Dog offers. Welcome to What-We-Do Wednesday!
Banners are a very popular product for a number of reasons. They are a great way to inexpensively advertise your community event, fundraiser, grand opening, or sales message. Banners are mostly used outdoors, but can also be displayed in large spaces indoors to advertise special sales or to thank sponsors at events.
Our standard sizing for banners is 3ft x 6ft but we can make any custom size you need! Our banner material is made out of high quality canvas banner material that can survive the outdoor elements. We use eco-solvent inks that are printed onto the banner and are rated to last 3 years or more outdoors. If you are hanging your banner outdoors we can even cut wind slots in your banner so the wind can pass through easily. Metal grommets are placed wherever you need them in order to hang your banner securely.
Custom design is included in the price of the banner! No need to pay someone extra to make your banner stand out and grab the attention you need! Our in-house Graphic Artists will work with your ideas to create a unique design for your event, organization, or business. Avoid the online store's cookie cutter looks and really make your banner stand out! Don't pay extra to have someone print a hi-resolution banner; they should already be doing that for you! Top Dog strives for the best. We want you to be 100% happy with your custom project and that means we put out our best product every time.
Make Top Dog Screen Printing and Embroidery in Appleton, WI your local banner supplier! Give us a call for a quote today!
Posted by Nicole Swanton about 3 months, 2 weeks, 5 days, 23 hours, 10 minutes ago...
Importance of Branded Products
If you were home alone and the "cable guy" showed up, would you open your door for him if he was wearing an old t-shirt, jeans, and was driving an unmarked vehicle? Probably not. This is a prime example on how not to represent your business. Doors open to people and businesses that represent their company in a respectable and professional manner. That same man with a company logo'd polo, khakis, and a vehicle with company decals on the side would have the door opened for him presumably without question.

The other day a saleswoman came into Top Dog selling insurance and asked for the Owner. She was wearing an old unbranded coat, unbranded winter stocking cap, and jeans. Although she was carrying a binder there was no way I could tell she was selling insurance. She did not get through to the Owner. If the saleswoman came in representing her company right out front (and gave me a REALLY good reason why she should speak with the Owner) I would let her through. It takes very little effort to brand your coat, hat, and binder and can make a substantial difference in sales.

Company apparel is Top Dog Screen Printing and Embroidery's specialty. It is our job to make sure your company image is strong. We provide many options to represent your business; from promotional products, binders, apparel, decals, and signage Top Dog has you covered. Top Dog can provide small companies to Fortune 500 companies with the necessary tools to succeed in the business world.

Don't let doors shut on you. Take the small amount of time to stop in and talk to us about how you can better represent your business with products from Top Dog.
Posted by Nicole Swanton about 3 months, 3 weeks, 6 days, 22 hours, 45 minutes ago...
Personalize your Holiday Gifts
Now is the time to start thinking about your personalized gifts for the Holidays. There are many ways to personalize a gift for someone special. Whether it is an existing logo, an inside joke, a name, or monogram, personalization gives that unique touch at the Holiday season.
If they already have apparel with their company logo on it, casually ask where they got it done. Place an order at that company with their logo on a jacket, sweatshirt, hat or scarf! Just be sure to tell the customer service staff this is a gift and they are not to know about it!
There are many items that can be decorated for someone that would be a unique custom gift. Embroidery is the most universal way to decorate items. At Top Dog Screen Printing and Embroidery you can avoid minimums by choosing this process. Customize your apparel with various fonts and colors!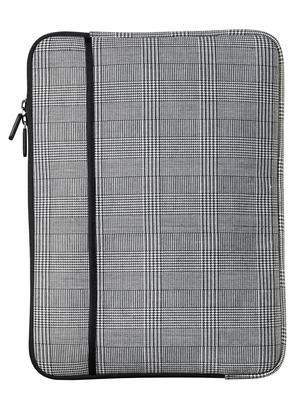 One hot idea for this season is tech cases. We have many styles available for the tech-lover! Bright new colors were just introduced this year and we are super excited to start personalizing this new trend. From tablet sleeves to laptop sleeves we have your tech-lover covered. No matter where they bring their device it will be protected from the elements while also representing them!
Another idea for the Holidays is embroidered blankets. We have many options to cuddle up with! My favorite this year is the Plush Blanket. This lightweight blanket is fuzzy, cozy, and will make you want to cuddle all day. This Plush Blanket is perfect for those winter nights by the fire with hot cocoa in hand. Embroidered monograms are most often used on blankets because they offer a sophisticated yet personal touch. These Plush Blankets come in a variety of colors and start at only $24.98!
No matter what gift you have in mind for some special this year, personalize it with the elegant look of embroidery from Top Dog Screen Printing and Embroidery in Appleton, WI.
Posted by Nicole Swanton about 7 months, 3 days, 7 hours, 58 minutes ago...
Fall Fashion for the Wisconsin Girl
I don't know about you, but like most women, I am always cold. Looking at the fashion trends for Fall I know that they are not practical for me at my workplace. Especially being in Wisconsin, having the door open when customers come in sends a cold breeze shooting my way. Don't get me wrong, the cute pencil skirts and sleeveless dresses with a printed scarf are very desirable this time of year, but just aren't practical for me. I looked around for some practical fall trends and found a few essentials that will keep me warm and trendy this season.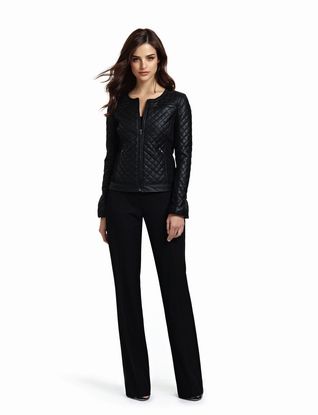 Faux Leather Jacket
This faux leather jacket from The Limited gives you an edgy touch while keeping you warm. When working with customers it is essential to be comfortable. If you are standing at the front desk shivering customers will pick up on this and find it distracting at the very least. Be comfortable even if that means throwing on a jacket. Easily dress up your look with dress pants and heels.
Blazer + Scarf + Jeans = love.
I am loving this blazer and scarf combo that Elle Macpherson is shown rocking here. Scarves are a must have for fall. You can find them in tons of colors and patterns and at very inexpensive prices! Mix and match neutral-colored blazers with animal print, plaid, and even neon scarves. Paired with a simple dark jean you can achieve a professional but comfortable look.
You don't need a horse for riding boots.
Riding boots are a must have for fall. I am a huge fan not only because I can wear really high socks with them to keep my toes warm, but they also keep snow off my feet when it gets to be winter! I am always looking for practical fashion, and this is a MUST for fall/winter in Wisconsin. I must admit, I am a big fan of skinny jeans also and these are essential to have with riding boots! I always buy neutral color riding boots so I can dress my outfit up with some color! Again, an easy and inexpensive way to do this is with a cute scarf!
Graphics and Cardigans
I am loving this look by J Crew. This is a fun and fashionable way to add interest to an outfit. I like to embroider our company logo on the cardigan to give it a professional look while still being fun. Sweaters are definitely a favorite of mine to beat the cold air! Try a cardigan in a bold color like red, royal blue, marigold, or fuchsia to be daring. You can also keep it professional with a black, grey, or navy cardigan and vibe it up with a bright graphic tee!
There are so many cute options for fall that will keep you warm and be practical for you at work. Sorry, pencil skirts, you are cute…but not for a cold Wisconsin girl.
Posted by Nicole Swanton about 7 months, 2 weeks, 4 days, 8 hours, 2 minutes ago...
Planning Personalized Gifts for Christmas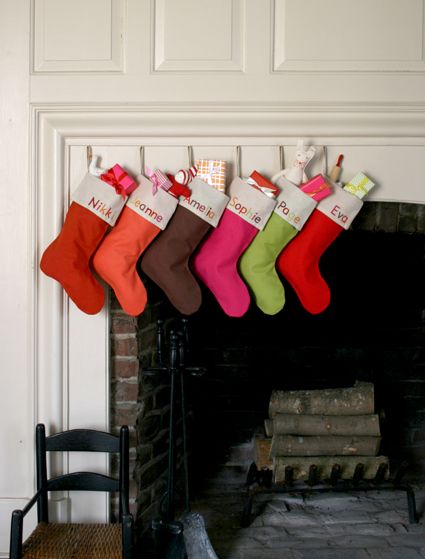 Now is the time for people to start thinking about gifts for Christmas. I know, it seems to be too early to start thinking about this. But the sooner you do, the more prepared you will be. Top Dog Screen Printing and Embroidery offers many budget friendly products that will make personal and cherished gifts.
From an employer's perspective, employees show up to work for you every day. They work hard and represent you and your company. Are they visually representing you professionally with company logo'd clothing? If not, now is a great time to play double duty on gifting. Not only will they appreciate the gift and feel valued, they will be able to wear their personalized gift to work and represent your company professionally with their logo'd polo or jacket. Making your employees feel special and appreciated is a big part of team moral. Spend this Christmas putting a little time into your employee's feelings, and you will see a return on your investment.
Christmas time isn't just for employers showing their appreciation for their dedicated employees. Families take much time planning their gifts for their loved ones. Embroidery offers versatility in the garment decoration industry. With a one piece minimum for embroidered items at Top Dog, you are able to personalize almost any gift for your special someone. Bring in your family's Christmas stockings and we will happily monogram them for you in fun fonts and colors! You can also embroider a fleece blanket in your son or daughter's school colors. If you are in the process of making a quilt for your Granddaughter, why not embroider her name on a square before it is completely done? There are simple ways to add personal touches with embroidery that will show your loved one you went the extra mile this year.
Don't forget we make promotional products also! These pens, mugs, hats, and totes are fun and inexpensive ways to show your customers they are valued this year. Give them a little something to remember you by and as a "Thank You" for their business this year! Call Top Dog to get started on your early planning! 920-882-5576.
Posted by Nicole Swanton about 7 months, 3 weeks, 2 days, 8 hours, 28 minutes ago...
4 Tips to Make Your Custom Garments Last!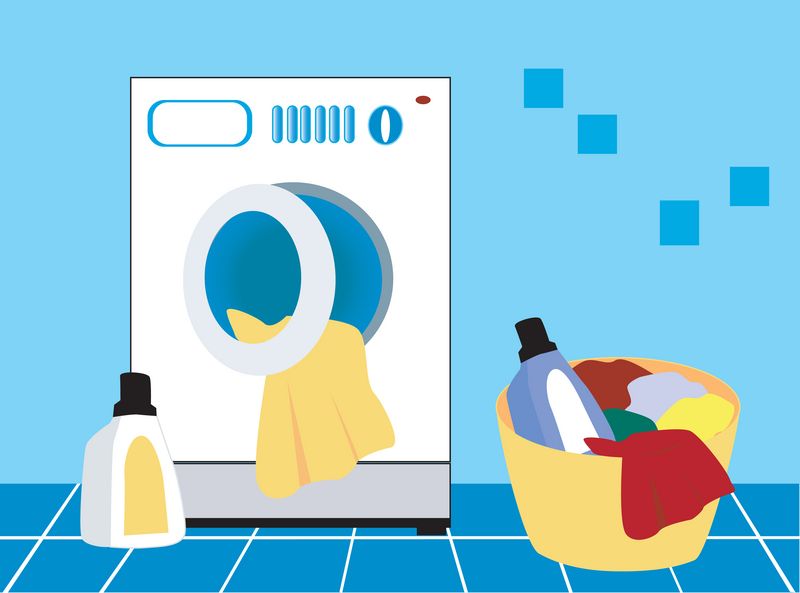 Screen printing and embroidery is a great way to decorate clothing for events, teams, giveaways, personal and corporate needs.
After going through the process of getting ideas together for a design, having the design made, choosing your shirts, and waiting for production, you have spent time and energy creating your custom screen printed shirts. Take the time to make sure your garments last!
When it comes to taking care of your custom apparel it isn't rocket science... Just be gentle.
Tip1: Read the tag. We screen print and embroider on 50% cotton/50% polyester shirts, 100% cotton shirts, and 100% polyester shirts. Be aware how you should wash each type of garment. For most types of garments, to be safe, we say wash in cold water and dry on gentle. Keep the temps cool and you should be able to prevent fading, shrinking, and bleeding.
Tip2: Use cold water. Shirts won't shrink and it is gentler on the ink and threads in/on the shirt. It will make your garment look better and last longer!
Tip3: Turn your shirt inside out! This will protect the design on your garment. Threads can get caught on other clothing so as an extra precaution, turn it inside out.
Tip4: Dry gentle. This keeps the temp cool and is also a gentler cycle so the shirts won't get twisted together with other clothing.
We hope these tips help you take better care of your custom apparel that you had made just for you!
Posted by Nicole Swanton about 8 months, 5 days, 20 hours, 54 minutes ago...
DIY Recycled T-Shirt Tote Bag!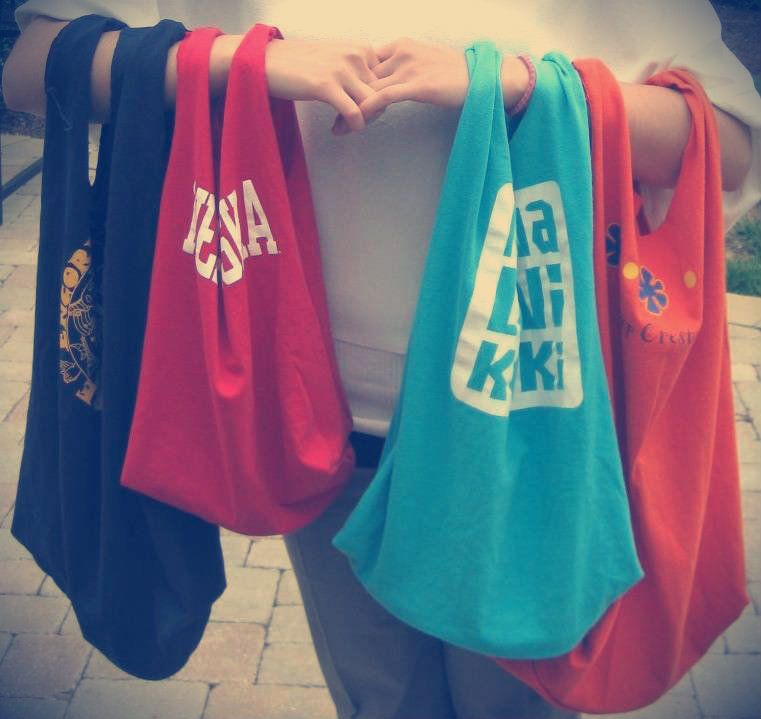 This is a super-fast and easy way to create a reusable (and washable) tote bag from your favorite old t-shirts!
No need to throw away the apparel you once loved; why not wear it again in a different way?
Perfect for Farmer's markets or misc. weekend errands, Mother Earth appreciates you re-using!
This is a great project to show your kids or Girl Scout Troops how to sew and be environmentally friendly!
Even if you don't have a sewing machine, pick up a needle and thread and spend a little time sewing the bottom shut...We promise it will be worth the work!
We love printing custom shirts at Top Dog and don't want to see them ever be worn out!
Re-use your decorated apparel made at Top Dog and keep on representing your brand or business even after you can't wear the shirt anymore!
Simple Steps:
STEP ONE:
Gather your supplies!
-Heavy weight cotton T-shirt (Youth size XL or Adult S or M)
~ 3- 5 straight pins
- Pencil or pen
- Dinner plate
-Scissors
- Sewing machine or spend a little time sewing by hand. Whatever you prefer!
STEP TWO
-Find an old t-shirt you love but can no longer wear and lay it completely flat on a table. Use scissors to cut and remove the sleeves but do not remove the seams!
STEP THREE
-Place a dinner plate about halfway over the neck opening of the shirt. Trace the plate with a pen. Cut along the traced line with the scissors. You can also make the opening deeper if you want to throw your bag over your shoulder more like a purse bag. Keep in mind how much room you will have in your bag to put stuff though!
STEP FOUR
-Turn the T-shirt inside out and use the pins to pin the bottom of your bag.
STEP FIVE
-Use the sewing machine to sew the bottom of T-shirt hem closed. Reinforce your tote bag by sewing over this seam a second time!
-Sew the corners at an angle (gusset) so your bag is not so boxy when you flip it right side out.
STEP SIX
-Turn the shirt right- side- out and your bag is complete! Congrats on taking one step closer to being environmentally friendly AND stylish!
Find more DIY ideas at www.instructables.com!
Posted by Nicole Swanton about 8 months, 1 week, 1 day, 23 hours, 14 minutes ago...
Fox Valley Humane Association's Tailgate Event
Last night at the Grand Meridian hundreds of supporting and caring people showed up to help raise money for the animals at the Fox Valley Humane Association. It was a blast seeing everyone come together to enjoy food, entertainment, and the company of some furry animals in tutu's!
Whether you were enjoying ice cream from Cold Stone Creamery, pesto tortellini from Mark's East Side, or tamales from Sangrias, there was a wide variety of food to please any palate. Mini cheesecakes from Debe's Cheesecakes were a huge hit! With seasonal pumpkin cheesecake, how can you go wrong? Ending the night with some decaf vanilla coffee from Starbucks was like being in heaven. All the fine food from the local restaurants was exceptional!

Bill Jartz and Chuck Lakefield worked the room like pros during the live auction to sell paintings, Packer items, jewelry, and handcrafted items! They sure have the talent and character to make money for a good cause! Every $25 spent in the auction went to save the life of one animal. Whether it was spaying/neutering or sparing them from being euthanized, every penny was worth bidding in the live auction. Lynn was lucky enough to walk away with an original painting of a Cocker Spaniel done by local Artist Chad Brady!

Thank you to everyone who came out to help us support the Fox Valley Humane Association. This is an organization very near and dear to us and we are looking forward to supporting them for years to come!
Posted by Nicole Swanton about 8 months, 1 week, 5 days, 23 hours, 18 minutes ago...
Top Dog Commercial
Posted by Nicole Swanton about 8 months, 2 weeks, 15 hours, 22 minutes ago...
Top Dog- Official Apparel Supplier of the NBC26 Packer Staff!
Today was a fun and exciting day shooting our new commercials in the NBC26 studio! On top of that we are proud to announce that we are the official apparel supplier of NBC26 Packer and Sports Staff! Keep an eye out for our apparel to be seen on the Mike McCarthy Show, Sports Showdown, and more!
Also, Look for our new commercials coming soon! For these new 15 second ads we chose to focus our attention on business apparel and sports/school spirit apparel. We will also start advertising for our parent company Industrial Nameplate! Those 15 second ads will be coming soon!
Posted by Nicole Swanton about 8 months, 2 weeks, 1 day, 18 hours, 33 minutes ago...
Cotton Vs Polyester. What Should I Choose?
When choosing a garment to decorate, our customers are continuously asking "What is the difference between cotton and polyester, and what should I choose?"
In response to that question, Cotton has many advantages and disadvantages. One benefit of cotton is that it is very absorbent. This can be great for towels because the purpose of a towel is to soak up liquid. Polyester would not be able to absorb liquid as well as cotton. This can also be a disadvantage If you order a cotton t-shirt. Cotton is more likely to stain compared to a polyester shirt. Polyester resist stains better than cotton because of the chemical make-up of the polyester material which is made out of coal, air, petroleum products, and water. Polyester also holds its shape better and is more resistant to wrinkling, which is great if you don't like to iron!
Cotton is a natural product harvested from a cotton plant, and then spun into fibers. Some people may argue that cotton is their first choice because it is a natural product and therefore better for the environment. Whichever option you choose, the fibers and garment had to go through many production processes that used large amounts of water and energy, and produced pollution. This may not be a valid reason to consider cotton over polyester.
Polyester also has many advantages and disadvantages. Even though Polyester is not a natural product, it is manufactured by mixing different chemicals together which creates a strong and durable fiber. In the garment industry there is not another cost effective fiber available that can make a garment as durable as polyester can. Polyester is also more resistant to shrinkage than cotton. Because of the chemical composition of polyester it can hold its shape better than cotton. Cotton is naturally shrinkable and can dramatically change its shape depending on how it is washed and dried.
There is a way to compromise on this argument. There are many garments available in 50% cotton and 50% polyester. Together they make a strong, durable, breathable garment that can hold its shape and color better over time than just cotton. Many sports teams use 50/50 cotton and polyester blend because of the durability and breathability of the fabric. There are many misconceptions about polyester and cotton and what they can do for you. Based on personal preference and a few facts, you can decide what is best for your needs.
Posted by Nicole Swanton about 9 months, 2 weeks, 3 days, 8 hours, 27 minutes ago...
NOW HIRING GERBER MACHINE OPERATOR
Posted 7/24/12
We are now hiring a full time Gerber Machine Operator.
Working mostly in an office setting and occasionally in a shop setting, the Gerber Machine Operator designs and prints industrial vinyl labels from a Gerber printer.
First Shift, M-F 8:00am-4:30pm.
Requirements:
· High School Diploma or equivalent
· Proficient spoken and written English
· Punctual, meticulous and reliable
· Proficient at typing and spelling
· Excellent time management skills
· Excellent customer service skills
No experience necessary but must be efficient with computers and production.
Please call for more details.
Apply in person or send resume to: nicole@topdogapparelinc.com
Posted by Nicole Swanton about 9 months, 3 weeks, 6 days, 8 hours, 50 minutes ago...
New Fashion Line!
We are very excited to announce that we now carry a trendy, slim fitting, and exclusive fashion line called District!
District is a new line carried by one of our suppliers that is aimed towards a youthful minded demographic. Our representative stopped in our showroom with a ton of new samples and we loved them all!
The new line features textures and colors to give the garments a trendy look! Check out the online look-book to see the exciting new clothing:
http://www.districtclothing.com/look-book
Posted by Nicole Swanton about 10 months, 1 week, 2 days, 19 hours, 42 minutes ago...
HWY 15 Construction
Road construction is in full force on HWY 15 and County Road CB. Construction crews are creating Wisconsin's second biggest round-about right outside our window!
Here are a few ways you can reach us:
Take Northland Avenue west towards Greenville, right on Mayflower Dr, and first left on Neubert Road.
From the Greenville area you can reach us by taking Everglade east, right on Mayflower, right on Neubert.
We apologize for the inconvenience. Please support local Greenville businesses during this hard time.
Posted by Nicole Swanton about 11 months, 2 weeks, 6 days, 14 hours, 52 minutes ago...