DIY Recycled T-Shirt Tote Bag!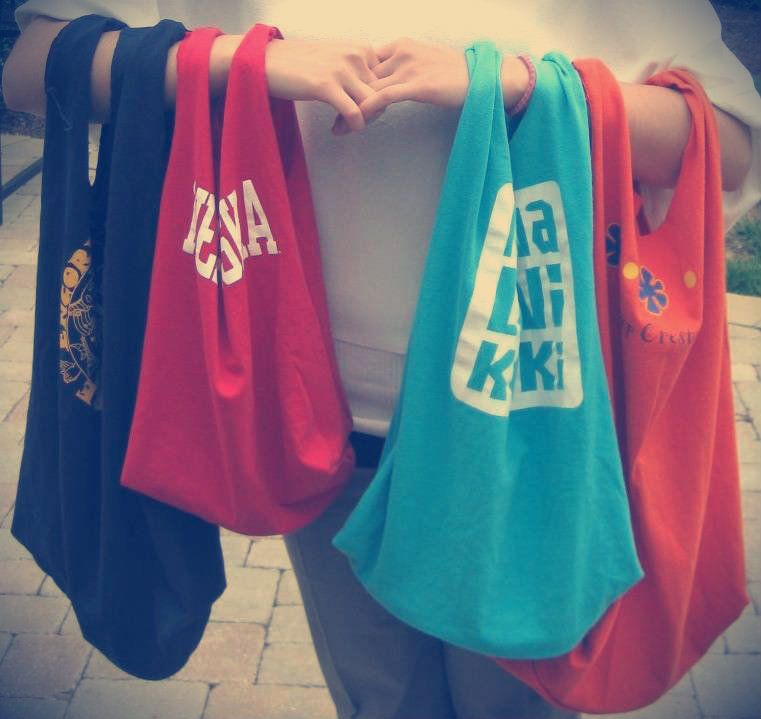 This is a super-fast and easy way to create a reusable (and washable) tote bag from your favorite old t-shirts!
No need to throw away the apparel you once loved; why not wear it again in a different way?
Perfect for Farmer's markets or misc. weekend errands, Mother Earth appreciates you re-using!
This is a great project to show your kids or Girl Scout Troops how to sew and be environmentally friendly!
Even if you don't have a sewing machine, pick up a needle and thread and spend a little time sewing the bottom shut...We promise it will be worth the work!
We love printing custom shirts at Top Dog and don't want to see them ever be worn out!
Re-use your decorated apparel made at Top Dog and keep on representing your brand or business even after you can't wear the shirt anymore!
Simple Steps:
STEP ONE:
Gather your supplies!
-Heavy weight cotton T-shirt (Youth size XL or Adult S or M)
~ 3- 5 straight pins
- Pencil or pen
- Dinner plate
-Scissors
- Sewing machine or spend a little time sewing by hand. Whatever you prefer!
STEP TWO
-Find an old t-shirt you love but can no longer wear and lay it completely flat on a table. Use scissors to cut and remove the sleeves but do not remove the seams!
STEP THREE
-Place a dinner plate about halfway over the neck opening of the shirt. Trace the plate with a pen. Cut along the traced line with the scissors. You can also make the opening deeper if you want to throw your bag over your shoulder more like a purse bag. Keep in mind how much room you will have in your bag to put stuff though!
STEP FOUR
-Turn the T-shirt inside out and use the pins to pin the bottom of your bag.
STEP FIVE
-Use the sewing machine to sew the bottom of T-shirt hem closed. Reinforce your tote bag by sewing over this seam a second time!
-Sew the corners at an angle (gusset) so your bag is not so boxy when you flip it right side out.
STEP SIX
-Turn the shirt right- side- out and your bag is complete! Congrats on taking one step closer to being environmentally friendly AND stylish!
Find more DIY ideas at www.instructables.com!
Posted by Nicole Swanton about 8 months, 1 week, 4 days, 14 hours, 54 minutes ago...